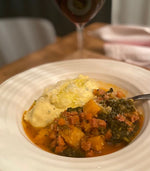 Suffolk Chorizo Ragout with Soft Sage Polenta
This delicious Versatile ragout has been created by award winning author and chef Maria Elia. This recipe can easily be adapted by the addition of chickpeas or white beans or a can of crushed tomatoes. Serve with soft polenta, mash, spaghetti or use as a filling for a jacket or sweet potato. You could also use our whole air dried chorizo and blitzed in a food processor if you have not got our diced cooking chorizo to hand.
Serves 3-4 people
Ingredients for the ragout
Good glug of olive oil
2 x 100g Packets of Diced Suffolk cooking chorizo
1 carrot finely diced
1 Onion finely dices
1 small sticks of celery finely diced
200g peeled pumpkin/ squash cut into 2 cm pieces
1 large garlic clove crushed
3 tsp finely chopped rosemary
3 tsp finely chopped sage
3 tsp fennel seeds
pinch of chilli flakes (optional)
1 heaped tbsp of tomato puree
2 tsp Marigold vegetable bouillon/ 500ml chicken stock
100g Kale (or Cavolo nero) stripped from its stalk  and torn into small pieces
Ingredients for the Polenta
60g unsalted butter
6 sprigs of sage roughly chopped
180g polenta *
500ml milk
50g Parmesan, finely grated
Method
For the ragout, heat the oil in a medium size pan, add the chorizo and cook over a medium heat for 3-5 minutes to release some of it's oil. Remove the chorizo with a slotted spoon and set aside.
Add the carrot, onion, celery and pumpkin and cook for 8 minutes, stirring regularly until the vegetables have softened. Add the reserved chorizo (keeping the container it was in aside), garlic, herbs, fennel seeds and chilli and cook for a further 6 minutes over a low heat.
Add the tomato puree and bouillon plus 500ml of hot water (or stock) using a little to swirl around the boil the cooked chorizo was in.
Cover and simmer for 5 minutes before adding the kale, re cover and cook for a further 8 minutes or until the kale and pumpkin/squash has softened.
Season with sea salt and black pepper and serve in pre heated bowls with soft sage polenta. Sprinkle with Parmesan, drizzle with olive oil, pour a glass of red and enjoy!
For the Polenta
Heat the butter in a medium pan, once bubbling add the sage and gently fry for a minute or two over a low heat until the butter lightly browns and smells 'nutty'. Immediately add the milk and 500ml of water.
Once the liquid is hot (but not boiling) whisk in the polenta. Reduce the heat to low and cook, stirring regularly until thickened and no longer grainy. (*Since all polentas are different this could take anything from 10-30 minutes depending on whether  you're using slow cook or instant, follow the packet instructions re the suggested amount of liquid replacing half the suggested water with milk).
 If the polenta thickens too much add a dash of boiling water or milk, it should be creamy in texture. Once ready to serve whisk in the Parmesan, reserving a little to sprinkle over the top, season with sea salt and pepper and serve immediately.