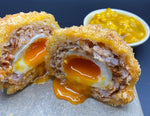 Elder Street café Suffolk Chorizo scotch egg and piccalilli
We are delighted to have teamed up with Elder Street café to share with you their recipe for Suffolk Chorizo scotch egg with piccalilli. Perfect for snacking or as a light lunch.


Elder Street café is based just outside the market town of Saffron Walden on the Cambridge/Essex border. They use locally sourced ingredients where possible and have been making scotch eggs using our Suffolk chorizo for eight years. Needless to say, this is a tried and tested recipe.


Thank you Elderstreet Café for sharing your recipe and we hope you enjoy!
Ingredients:
Serves 6


For the piccalilli (needs to be made in advance):
1 cauliflower
3 large onions
8 large banana shallots
Salt and freshly ground white pepper
1 cucumber
600 ml white wine vinegar
300 ml malt vinegar
¼ teaspoon chopped dried chilli
350 g caster sugar
50 g English mustard powder
25 g ground turmeric
3 tablespoons cornflour
For the Scotch Eggs:
8 Medium Free Range Eggs (2 to be used for the egg wash)
A splash of milk
100g Suffolk Chorizo
500g Lane Farm sausage meat (or Cumberland sausage meat as an alternative)
100g Plain Flour
100g Natural Dried Breadcrumbs
Method:
For the Piccalilli:
Cut the cauliflower into small florets. Peel and cut the onions and shallots into 1 cm dice. Place in a bowl, sprinkle with 25 g of salt and leave to stand for 24 hours. Afterwards rinse in cold water and dry.


Peel and de-seed the cucumber and cut it into 1 cm dice. Sprinkle with a little salt and leave to stand for 10–15 minutes. Rinse in cold water, then dry and add to the onions and cauliflower.


Boil the two vinegars together with the chilli and then leave to cool for 30 minutes. Strain through a sieve into another bowl and discard the chilli.


Mix together the sugar and remaining dry ingredients in a bowl. When the vinegar is cool, mix a little of it with the dry ingredients.

Bring the bulk of the vinegar back to the boil, pour into the sugar mixture, and whisk until it is all blended together.

Bring this mixture back to the boil and cook for 3 minutes, then simply pour over the vegetables and mix well. Leave to cool.

The piccalilli is now ready and can be put into jars and refrigerated, or served at once. It will keep refrigerated for at least a month.
For the Scotch Eggs:
Bring a deep pan of water to a rolling boil.


Set a timer for 5 minutes (6 minutes for large eggs)


Carefully and as quickly as possible place the 6 eggs into the pan with a slotted spoon.


Boil for 5 minutes.


After 5 minutes carefully drain the eggs and run under cold water until cold to stop the cooking process.


Carefully peel the eggs - as the eggs are soft boiled this can be tricky.


Finely grate or blitz the Suffolk Chorizo in a food processor.


Mix the Chorizo through the sausage meat.


Divide the sausage meat into 6 equal balls.


Lightly wet your hands with water and in turn take each ball of sausage meat form into a patty approx. 1/2 cm thick in the palm of one hand.


Place the egg in to the centre of the sausage meat and carefully manipulate the sausage meat around the egg covering it.


Use a little more water on your hands to smooth out any holes or cracks.


Take 3 mixing bowls, place the flour in the first with a touch of salt and pepper, in the second the remaining 2 eggs beaten with a splash of milk and the third bowl the bread crumbs.


In turn roll the scotch eggs in the flour, then the egg mix and finally the breadcrumbs ensuring they are completely covered.


Using a fryer with the oil at approx. 175 degrees centigrade until golden in colour, place on a baking tray and place in a preheated oven at 180 degrees centigrade for 5 minutes.


While still warm cut in half and serve with a dollop of your piccalilli.