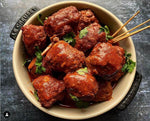 Tapas Inspired Chorizo Meatballs
Hannah creates beautiful looking recipes on instagram and being a fellow Londonder (local to Sarah) she kindly agreed to pull together a dish using our diced cooking chorizo.
We love this easy to follow recipe and since tapas is one of our favourite cuisines we are delighted by these Tapas inspired Chorizo Meatballs.
Check her out on instagram @alwayshungryinlondon
Ingredients:
A handful of gluten-free breadcrumbs
Beef mince 15% fat 500g
1 pack of 
@suffolksalami
 cooking chorizo

2 garlic cloves - sliced
Herbs - for garnish
1 small egg
Smoked garlic granules 1/2 tsp
smoked paprika 1/2 tsp
olive oil
200ml red wine
400ml tomato passata
1 tbsp tomato purée
Salt and pepper


Method:
‍In a mixing bowl, add the beef mince, diced cooking chorizo, garlic granules, egg, smoked paprika, breadcrumbs and about 1tsp of salt and pepper.
Mix together until the mince has a smooth consistency.
Using clean wet hands, roll the mix into small meatballs.
In a frying pan, add 1 tbsp oil and cook the meatballs until seared on all sides.
Remove the meatballs from the pan. In the same pan, fry the garlic slices for a minute before pouring in the red wine. Reduce the wine for 2-3 minutes then add the passata and tomato purée.


Add the meatballs back into the pan, coat in the sauce and cook with the lid half on for 30 minutes on a low to medium heat. The sauce will be rich and thick but add a touch of water if too thick.


Serve with other tapas dishes or just a big chunk of crusty bread and a glass of vino.