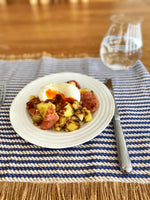 REBECCA'S SUFFOLK SALAMI POTATO HASH
Sue and Ian's daughter, Rebecca,  has always been a part of the family business, returning home over 10 years ago to help with the day to day running of the business full time.
She has shared her go to brunch recipe which is quick and easy to prepare. You can use any flavour Salami, we have just used our Suffolk Salami in this recipe. 
Ingredients
1x Bunch of Spring Onions
100g Button Mushrooms
400g boiled peeled waxy potatoes.
90g Sliced Suffolk Salami
Serves 2
Method
Thinly slice the spring onions including all the green parts. Wipe the button mushrooms clean and cut the large mushrooms into quatres and the smaller mushrooms in half. Cut the potatoes into thick chunks.
Heat 2 tbsp of oil into a large frying pan, add the potatoes and stir over a medium heat until the potatoes are cooked and nice and crispy.
Reduce the heat a little and stir in the spring onions allowing them to soften before adding the sliced salami make sure the slices are peeled apart then add the mushrooms. Stir the ingredients frequently for a few minutes until the mushrooms are soft.
Serving Suggestions
This dish is ideal for a late brunch or a quick easy tea alongside a left over roast. I served my dish with a poached egg on top.