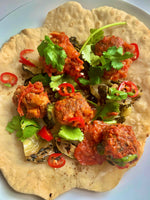 Moroccan Turkey and Chorizo Meatballs
Tony from Fit fun food has created this delicious meatball recipe using our Diced Cooking Chorizo. With this recipe Tony has used Turkey mince as it is lower in fat but this recipe is traditionally made using Lamb mince. We will leave it up to you to decide which mince you prefer.
Serves 4 - or 2 with left overs.
Ingredients:
1 kg turkey mince (I prefer thigh meat but you can use breast)
1 packet Suffolk Salami diced cooking chorizo
2 slices bread
100ml milk
A handful each of chopped parsley, coriander and mint
1 tsp ground cumin seed
1 clove of minced garlic
1 tsp dried oregano
1 tsp smoked paprika (optional)
1 tsp each of salt and pepper
1 tsp dried chilli flakes (optional)
Method:
Tear or process the bread into small pieces
Add milk and leave for 10 minutes to soften then mash to a paste with a fork
Add all other ingredients and mix well - its best to use your hands.
Leave to rest in fridge, covered, for 30 mins to let flavours develop
Roll into walnut sized balls - you can make them as big or small as you like. If I'm having them with spaghetti I make them very small. It helps if your hands are wet.
Now either fry in a large pan (you may need to do 2 batches or more to stop then steaming) or bake at 200c in oven for 20 minutes - you're browning them not cooking them al the way through.
Once lightly browned all over, drop them into you favourite tomato sauce (See suggested recipe below) and let them cook gently for 30 minutes. I find they're even tastier when you reheat them the following day. Add extra freshly chopped herbs and serve with spaghetti, rice, quinoa or flatbreads. They're even great in a sandwich.
Simple tomato sauce:
Ingredients:
2 tins whole peeled tomatoes (blend with a stick blender or roughly chop with scissors, or crush in your hands)
3 tbs olive oli
2 cloves of garlic crushed
1 tbs harissa (if you have some) or 1 tbs smoked paprika and 1 tsp chilli flakes (optional)
1 tsp salt and pepper
Method:
Gently fry the garlic in the oil for a couple of minutes
Add the harissa or paprika/chilli flakes
Fry for 1 more minute
Add the now blended/chopped tomatoes
Cook gently for 20 minutes (as you cook the meatballs)
Add the meatballs and seasoning