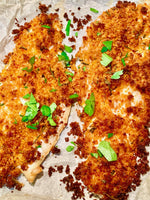 Chorizo Crumb Baked Sea Bass Fillets
By Tony Moorcroft from @fitfatfunfood
Sea bass is so cheap and nutritious but it sometimes need a bit of punch adding to it. This crumb topping can be used on lots of different fish and can also be used as a topping for chicken, vegetables and is great as a topper for mac and cheese.
Serves 2
Ingredients
2 fresh sea bass fillets - patted dry
A large stale slice of sourdough (crusts off)
Half a packet of Lane farm cooking chorizo
Leaves from a sprig of rosemary
Few grinds of black pepper
Method
Turn oven on to 200c or 180c fan.
Line a small oven tray with foil and lightly oil.
Place sea bass fillets on tray, skin side down.
Blitz the sourdough, cooking chorizo and Rosemary up in a food processor
Pat the crumb onto the fillets but not too firmly.
Bake in oven for 20 minutes.
Serve with a mixed salad.