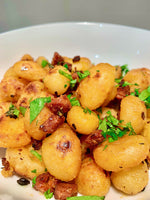 Fried Potato Gnocchi with Chorizo
By Tony Moorcroft
Potato gnocchi can be stodgy and slimy when its cooked in water, but this recipe gets them crispy and fluffy and it's quick and easy. 
 If you want to make it more substantial you can add cheese at the end and whack under the grill.
 It makes a great side to meat or fish.
Serves two as a side
 Ingredients
250g of potato gnocchi (usually half a pack)
1 tbs olive oil
half a pack of Lane farm cooking chorizo
Large clove of garlic (whole)
leaves from a sprig of rosemary or a few sage leaves, chopped
Black pepper
Method
Warm a large fry pan and add the oil.
When warm add the gnocchi and stir round. Cook on a medium heat for 5 mins 
Add the chorizo and cook for 5 mins
Add garlic and turn up heat and keep moving the gnocchi around
Remove garlic and add rosemary or sage
Cook a few more minutes until they are well browned and crispy - you can add a knob of butter in the last minute to get a nice caramelisation.
Add pepper to taste.