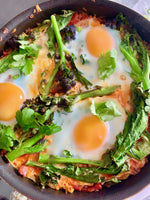 By Tony Moorcroft from @fitfatfunfood
I love Shakshuka and there are endless variations so use this as a base for a great brunch dish. The base should be a spicy tomato sauce, in which you braise eggs - you can do this on the stove or in the oven. 
Serves 2
2 fresh free range eggs
1 tbs olive oil
Tin of plum tomatoes - I prefer Multi tinned San Marzano tomatoes for best flavour
Half a pack of Lane farm chorizo
1 large inion finely chopped
2 peppers (vary the colours chopped into strips
(Additional veg of your choice - I like to add greens like purple sprouting broccoli)
1 clove garlic chopped
1 tbsp harissa (optional)
pinch of dried chilli flakes (optional)
1 tsp ground cumin
chopped coriander
Method
In a medium frying pan warm the oil and add the onion and gently sauté for 10 mins
Add the spices and harissa, salt and pepper.
Add the peppers and garlic
Cook for a few minutes until softened
Add the tinned tomatoes breaking them up
Cook for about 10 mins with a lid off until the tomatoes have thickened.
Add the purple sprouting broccoli if using and put lid on and cook for a few minutes.
Create a couple of wells in the sauce and carefully break each egg into each well.
You can put the pan in an oven at 180 for about 8 minutes or leave on the stove at a low heat with a lid on until the whites set and the yolks are still runny.
Serve with crusty toasted sourdough or focaccia..